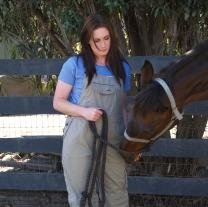 Rosies' Intern Wins Cal Poly Rodeo!
by Elizabeth Layton
I have had the privilege of working at Rosies Workwear for the past two months.  Not only have I loved working for a business that promotes "women can do it", I have been inspired by the hard-working women who purchase Rosies.
As a graduating senior at California Polytechnic State University in San Luis Obispo, I decided to take one easy class the beginners rodeo class. This class allows students to practice all the various events in a rodeo. We were also required to volunteer at the Cal Poly Rodeo that takes place during our Open House for incoming freshman. Included in all this was a steer riding competition for our class (similar to bull riding, but not quite as scary since steers are smaller). Out of the 80 students only 10 were randomly chosen to ride the steers in the rodeo in front of everyone.
So of course, my name was chosen. The first words out of my mouth were, "Are you kidding me? No, I did not want to put myself on a steer whose only goal is to buck me off, but yes, of course I'll do it."  How could I possibly work for a business whose motto is that women can do anything that men can do, and then not take this opportunity?
The day of the rodeo I was pretty nervous.  I wasn't so much scared anymore (I had gotten to practice once, earlier that week) but I didn't particularly feel like embarrassing myself in front of hundreds of people. As Rosie luck would have it, I didn't embarrass myself at all. In fact, I won! I stayed on the longest and received the highest score out of the ten students. I won a belt buckle and got the satisfaction of proving that girls can ride steers, too. I think I'm becoming a Rosie.