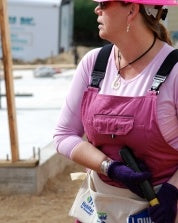 Rosies Habitat For Humanity Work Day
On a sunny day in October, Roises dressed in pink and raspberry overalls came together to help Habitat for Humanity build a house in San Luis Obispo, CA. The Habitat for Humanity Women's Build is a program that encourages women to make a difference in their community by building homes for those in need. It provides a comfortable environment where women can learn construction skills they might not otherwise have the opportunity to learn. Lowe's in Paso Robles and CK Builders teamed up to bring this Women's Build to San Luis Obispo. Our Rosies strapped on some overalls and went to work! Below is Molly Kiely's, reflections of the day.
I felt really lucky to participate in the Rosies Women's Day Build with Habitat for Humanity. It was a beautiful sight to see all those women in the early morning, pulling on their pink Rosies and gearing up for a day of construction. There was only a handful of ladies that actually knew what they were doing and could speak the language of the trade, the rest of us were helpful hands for pounding nails and carrying two by fours.
I must admit I was intimidated at first by this business of building a house and all the power tools, measurements and  manual labor that goes with it.  However, all the women were so great and a pleasure to work with.  The team leaders took a lot of time to explain what we were doing and how to use the tools (as I secretly feared I would chop off my fingers with the table saw).  I also loved seeing Sharon (Rosies founder), power tool in hand, surrounded by all her Rosies.
The best part of the day for me was when we erected a wall on one of the houses.  It was a true team effort that required strength, coordination and all hands on deck. As we held up the wall, I looked down the line at these women from all walks of life and all ages.  They were laughing, cracking jokes and enjoying each other's company.  Together, we had done something pretty cool and I was full of gratitude.  Now that's girl power.