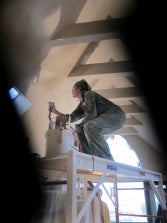 This year's Dirtiest Rosies Contest winner tells us a little bit about herself and how she gets dirty.  She is a true Rosie and we admire all of the beautiful work she does.  Plus, she is a fellow blogger!  Check out her blog at sageartistry.blogspot.com.  Here is what she told us about herself and how she became a Rosie:
It's so nice to have companies like Rosies! You support us cowgirls, pioneers, innovators, and creators! It's a real treat to be honored. My Mom bought me my first pair of Rosies and encouraged me to enter a few months ago…a Mother's intuition must be right!
I worked at Microsoft from 1998 – 2006 as a project manager. In 2000, my husband and I bought our first house. I went down to Home Depot, grabbed a bucket of "Venetian plaster" and fell in love with the work. At first, my arms burnt from troweling, but I couldn't get enough of the work. Wall after wall became less white and more textured, one finish flowed into the next.
Pretty soon, I realized that I wanted to do this for a living and I decided to switch careers. I decided to complete Bellevue College's interior design program to really learn and explore the field of art and design. I knew that I loved plastering before I started the program in 2005, and I still was in love with the trowel after I completed it in 2009. The program at Bellevue College is exceptional and it gave me the structure I needed to elevate my current work. My professors will tell you that I was also the dirtiest Rosie in the program… I hope I didn't get too much plaster on the tables and seats!
Getting my A.A. in interior design AND growing my business was challenging. I think my biggest challenge now is learning when to take small risks or big leaps of faith! I love being accountable and navigating the direction of my business. One of the most challenging aspects is selecting which plaster materials to fall in love with. Some are beautiful, but toxic, others are beautiful AND kind to our health. When I started my business I developed the slogan, "Creativity with a Conscience." I have to stick to these ethics as an artisan and constantly evaluate the health of the materials I am using.
Creativity is a beautiful monster… so when I am not getting dirty with eco-friendly plaster finishes like American clay, I am often found getting dirty with fabric painting, sculpting, and casting glass. There really isn't ever a time that I am not trying to get dirty through creating. My respite is nature… when hiking at the river with my dogs helps bring all those explosive ideas down to a quiet simmer. Then it's back to the studio!
The current state of my Rosies is very textured!  I used sun paints to paint in wrench designs into the fabric and also did some paint splatters to really take them wild. My family will tell you I have very few solid colored clothes left. Everything in my closet has some sort of texture!
I think the biggest aspect of me being able to "do what I do" is the support I get from my family. It's nice coming home to a supportive husband, 3 golden retrievers and 2 orange tabbies at the end of a long day. We all nest together and I couldn't be a creative warrior without a strong family!