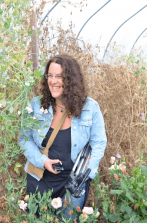 Vermont artist and oral historian Amy Anselmo is on a mission to connect people to their food and turn more women toward farming. "Any woman who's thinking about farming as a career, particularly the organic local food movement, it's completely possible, really rewarding, and an awesome way to contribute to making the world a better place."
Inspired by the women farmers in her own community, Amy launched a project called Conversations with Farm Women in conjunction with the nonprofit group Threshold Collaborative. The project, which combines story gathering and photography, is the perfect marriage of her passion for art and community advocacy.
Traveling to farms and farmers' markets, Amy records interviews with women who have adopted the farming life to find out what motivates them and to celebrate what she describes as the "strength, beauty and abundance of our farms and the women who work the land."
In one conversation (posted on the Threshold website), Amy speaks with Karen Trubitt, owner of True Love Farm, an organic vegetable and flower farm in North Bennington, Vermont. With a yearning folk melody playing in the background on a fiddle, Karen explains how she fell into farming quite by accident. "We are possessed by this land," she admits. Yet Karen is also honest about the self-doubt, the fretting over finances, and the drudgery of hard labor. In spite of all this, she declares unequivocally that her work, which feeds hundreds of households in her community, is "hugely satisfying."
"If your best friend's daughter were thinking about becoming a farmer, what piece of advice would you give her?" asks Amy.
After pausing a few seconds to ponder, Karen responds, "Make time for joy every day."
Like Karen, the women interviewed admit to the struggles, but as Amy has learned, not one woman has regretted her choice. What connects these women? "Maybe the common denominator is we as women like to nurture things. And farming and gardening and taking care of animals are all very nurturing," concludes Amy. "There is never a moment of boredom. It's demanding in a fulfilling way."
These conversations are meant to be a starting point to connect all of us— people who enjoy eating farm-fresh food—to our local farming community. "There is something very special about putting food on your table and saying, My friend Beatrice grew this." To that end, she also interviews people at farmers' markets to find out why they shop there and what they do with the food they bought. After all, she admits, some people may like the idea of fresh produce but have no idea what to do with kohlrabi, kale or fennel, right? Her next goal is creating what she calls "audio recipes," simple descriptions of how to cook the products sold at the market told in the voice of the growers and customers.
In Amy's perfect world, we would all shop at our farmers' market (made accessible also to families on public assistance!), buy food, find a recipe or a see cooking demonstration on the spot, and even listen to a story about the people who grew the food. How much more fulfilling would this be than just going to our grocery store? And how much more might we appreciate that food?
It's a noble goal, and Amy invites us all to participate. By purchasing one of Amy's Tractor Girl T-shirts from Rosies, you will help support Conversations with Farm Women. She also invites you to join the conversation by visiting her website and contacting her if you are interested in contributing recipes or gathering stories from women in your own community.