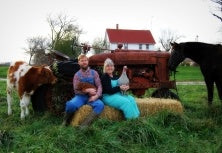 Christmas on South Pork Ranch Farm
Over the river and through the woods…we all have that perfect Currier and Ives vision ingrained in our minds, yet each year fewer people experience a true country Christmas surrounded by acres of natural beauty. Donna O'Shaughnessy, once a nurse working in Chicago, made the brave choice to become a country mouse when she and her husband bought an organic farm (South Pork Ranch) in central Illinois 17 years ago. And just two years ago she made another brave decision—to quit her job as a nurse and work full-time on the farm. She now devotes her days to milking cows, feeding pigs, making hand-made soap and other goodies for their farm store—endless chores often spent in the comfort of her Rosies. "Just getting to the barn when it snows can be a challenge," she says. "You're out there for three or four hours at a time in the cold, which is why good coveralls are so essential." Donna appreciates her Rosies so much, in fact, that she wore them for this year's Christmas card.
What's Christmas like on the farm? Between 30 and 40 family members gather at Donna's farm house on Christmas day for their traditional meal of soup and dessert. "Soup is just an excuse to get to the dessert," jokes Donna. But few can pass up her special potato, cheese, and pork sausage soup (sausage made from their own pigs) served in freshly baked bread bowls. When the dinner bell rings, everyone crowds around their 14-foot pine table, where they say a blessing and then dig in. Before the day ends, Donna and her four sisters will escape to the upstairs bathroom with a bottle of wine, one of them sitting in the big claw-foot tub, where they catch up on each other's lives. "Eventually someone will notice we're missing and come pounding on the door," she says laughing. The day is all about family, with kids outside chasing loose piglets and adults at the table debating politics and religion. It's all topped off with an array of homemade pies, cakes, and cookies served with a glass of farm-fresh milk.
In spite of the exhausting 18-hour days, Donna and her husband have no regrets. "We have been very blessed with this farm," she says, "and we are both grateful that we can make a living doing what we love."
We at Rosies are blessed by our wonderful customers like Donna, and we wish you all the jolliest of holidays spent in the warm glow of those you love.
Here is one of Donna's favorite recipes, perfect for Christmas morning!
Tom Cannery's Irish Soda Bread
Tom is the 80-something gentleman in County Wexford, Ireland who gave me the recipe. It was in his family for generations.
2 cups cake flour flour
2 cups whole wheat flour
3 teaspoons baking soda
1 teaspoon salt
1/4 cup treacle (may substitute dark molasses)
1 3/4 cup buttermilk
Blend flours, soda and salt; drizzle treacle or molasses over mixture. Slowly add buttermilk while mixing. Dough will form a sticky ball. Roll it in flour and knead lightly a few minutes. Shape into a round disk and cut a cross into the top. Bake at 350 degrees for approximately one hour or until bread sounds hollow when tapped. Best eaten warm from the oven with fresh butter and/or jam.
Read more about Donna's busy farm in her blog, Midlife Farmwife: http://midlifefarmwife.blogspot.com/